LMS Communities
Use an LMS Community for sharing resources, projects, collaborative research, and online communication with colleagues, groupings of students, or a general community of interest.
The difference between LMS Communities and Subjects
The main difference is that LMS Subjects are strictly governed by StudentOne teaching periods and Communities are not. Both share the same features and structure however. Communities are often used as a place to store information, or for learning that is self-paced and that does not contribute to formal grading. In contrast, LMS Subjects are time-defined and formally graded.
Attributes of LMS Communities:
LMS Communities have the same features and structure as LMS Subjects, and are just as customisable.
LMS user guides referring to Subjects also apply to Communities.
Each Community has at least one staff member and a number of Community members (staff, students, affiliates or external users). The Community owner is responsible for maintaining the site and managing membership.
Once the Community has been created, the requester will be given Instructor level access. They may add other staff via the Staff Roles tool.
How do you access Communities?
To view available Communities that you may be a part of, click the Subjects button from the global navigation menu and select All Subjects.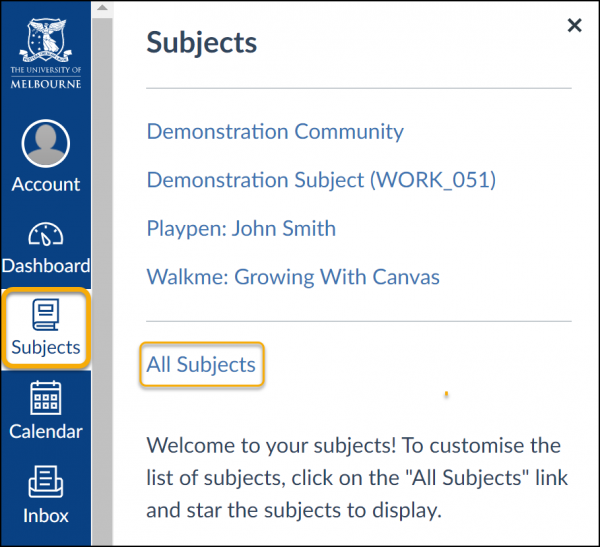 Click on a Community to view available content. Each Community has a unique ID located at the top of the subject menu and starts with COM followed by the community category and a numerical code (eg: COM_COM_012345).
Categories of Communities
| Category | Description |
| --- | --- |
| COM | Community space for students [general] |
| CPD | Community space for Continuing Professional Development for students |
| LIFE | Community space for student life |
| PDEV | Community space for staff professional development |
| RES | Community space for research students to collaborate |
Some Communities are restricted to invited participants while other Communities require participants to self-enrol or are open to all members of the University. Refer to the Community policy if you are unsure if a community is right for your needs or if you need a Community.
Community membership
The Community owner may add other staff members in relevant staff roles as required. For a detailed overview and comparison of available staff roles, please view the staff roles guide.
Adding users to a Community in a view only (student) role:
Users in a Community may be staff, students, affiliates or external users. When added via any of the below methods, their role will always show 'Student' in the People link of the relevant Community.
There are various methods to add users to a Community. Utilise an option that best suit your needs.
Ad hoc management: the owner or authorised staff members of the Community can add users in student (view only) roles on an ad hoc basis.
Cohort link by subject or course: membership may be managed by linking specific subjects or a course to a Community. Students are automatically added/removed from the Community based on their enrolment in specific subjects or course.
Self-enrol: when requested, a user can self enrol in a Community via the LMS Catalogue.

The LMS Catalogue contains a list of self enrol Communities and short courses.
Self-enrol Communities can be displayed in the LMS Catalogue in the following scenarios:
Show Listing: the Community will appear in the LMS catalogue and users can self-enrol by clicking the Enrol Now button.
Link Only: the Community will not be displayed in the LMS Catalogue. Users can self-enrol by accessing a unique self enrol link to the Community. The unique link will be provided to the requester after the community has been created.
Community policy
Accountability and responsibilities
Academic Systems and Digital Experience team: assist and encourage the use of Communities based on the five categories listed above.
Community owner: responsible for maintaining the site and managing membership. Each Community must have at least one University staff member that is responsible for maintaining the site.
Students are not able to request a Community.
There is no integration in data of Communities to StudentOne and other university source systems
Community members: ensure compliance with the University's Statutes and Regulations.
Policy overview
Communities must be requested and administered by a University of Melbourne staff member.
Community members are bound by the following policies:
Definitions and references
The University's Statutes and Regulations
Members: referred to as any staff, student, affiliate or external who has an LMS account.
Submit a request for a Community
A request for a Community may only be made by a University of Melbourne staff member using the support request form.
Select Learning Management System (LMS) as your request, and Community creation as your enquiry type.
This guide was last updated 10 Nov 2022.
Please report any errors or omissions in this guide by submitting an LMS support request.