FeedbackFruits
FeedbackFruits provides a series of tools designed to enhance student engagement with course content.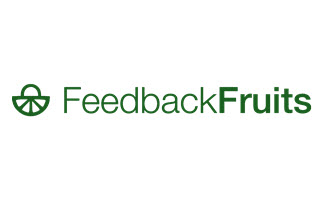 Quick links
What is FeedbackFruits?
FeedbackFruits is a suite of assignment tools that provide students with opportunities to give and receive feedback related to a range of assessment activities.
The Peer Feedback Assignment structures the process of students reviewing works submitted by other students
The Group Member Evaluation Assignment structures the process of students giving feedback about other group members.
Further tools are available in FeedbackFruits, such as Assignment Feedback, Comprehension, Group Member Evaluation, Interactive Audio, Interactive Document, Interactive Video, and Skill Feedback. Visit the FeedbackFruits Tool Suite for more information. These tools can be added individually to your subject by request; please contact Learning Environments to discuss these options.
Teaching and learning applications
Peer Review Assignments are an opportunity for students to receive and give feedback through the review of artefacts and events, including essays, posters, videos, presentations, performances and professional practices. Instructors create the review structure, providing evaluation criteria with options of ratings and text responses, choosing the number of self and peer reviews to be completed, and timings. Reviews can be based on individual or group submissions. Students can also be assessed on several components of the activity, including participation, scores awarded by reviewers and number of comments. The relative weightings of these components are chosen by the instructor.
Group Member Evaluation Assignments are an opportunity to collect feedback about teams or groups and their members. Students can reflect on the group experience and provide confidential feedback to staff, addressing the performance and contributions of individual members, including a self-evaluation. Instructors create the review structure and assign to particular group or all groups within a subject in the LMS.
Access and licensing
FeedbackFruits is now available in all Subjects in the LMS. Staff need to enable the tool in the Subject settings for it to be used as an Assignment type.
Getting started
Navigate to your Subject's Assignments area and create a new Canvas Assignment; select External Tool type, and choose the relevant FeedbackFruits tool from the list.
For more information, refer to the FeedbackFruits in the LMS staff guide.
Support and resources
FeedbackFruits is supported by Learning Environments. Please submit a support request for assistance.
Vendor guides