Getting started with Microsoft Teams
Microsoft Teams allows both staff and students to work with others on a project with a shared workspace. Create a team or use a template to get started.
Microsoft Teams is a software application that you can use to work with others on a shared project, or to create a shared workspace. It has many features that facilitate communication and collaboration.
Teams is particularly useful for students who are working together on group assignments, or on other learning activities that require a significant amount of communication and collaboration.
While many of these features are only available using the Teams application, an integration is available allowing staff to create Teams meetings in Canvas and share these with students as an alternative to Zoom for one-on-one or small consultations.
Access Microsoft Teams
Microsoft Teams is available as a desktop app, a mobile app, and online through a web browser.
Log in using your University username and password.
Create a new Team
Anybody with a University Microsoft 365 account can create a new Team – no additional administrative privileges are required. This means that both staff and students can create Teams to suit their needs.
Access Microsoft Teams on the platform of your choice (desktop, mobile or web) and log in with your University account details.
Make sure Teams is selected in the global navigation menu. Then click the Join or create team button in the top right of the screen.
You will now be presented with the option to either create a new team, or join an existing team. Click the Create team button.
In the pop-up window that opens, choose Other from the available Team types.
Refer to this comparison of features across Team types as well as the following:

Using the Class type is not advisable, as this Team type includes the features "Assignments and Grades", which should not be used and may potentially confuse students.
Teams created with student accounts will automatically default to the Other type; the option to choose another Team type is not available.
Once a Team has been created, its type cannot be changed.
You will now be asked to set the Team name, description, and privacy level. When ready, click Next.

Team name: If you or your students will be creating multiple Teams of a similar type, such as for student project groups, you may wish to adopt a consistent naming convention for easy identification of individual Teams. For example, you may wish to include the subject code, semester year and number, tutorial or workshop group number, and a unique identifier for each group. A sample Team name might look something like this: ABCD12345_2020_SM1_W01G03
Description: This field is optional; the information entered here is not displayed to other team members.
Privacy: Select whether a team is Private or Public. It is recommended that you set Teams to Private and invite members as described in Step 6, rather than setting Teams to Public and relying on members to self-enrol. Teams that are set to Public may not be visible to all intended members.
Note: If you are already the owner of at least one Team of the same type as the Team that you are creating, you will have the option here to use an existing Team as a template.
On the next pop-up screen, invite members to your Team. You can invite individual students or staff members, or entire mailing lists. You can also invite users external to the University by entering their email address (see add guests to a Team for more).

Note that you can skip this step and invite Team members at a later time.
Create a Team from a template
If you are creating multiple Teams for use in your subject, you may prefer to use the template option.
You can only create templates from Teams that you own. If you want to create a template from a Team that you don't own, you can ask an owner of that Team to make you a co-owner. See make someone a team owner for more.
From the Teams application, click Join or create team in the top-right, then click the Create team button.
Choose Other as the Team type then scroll down to select Create a team using an existing Team as a template.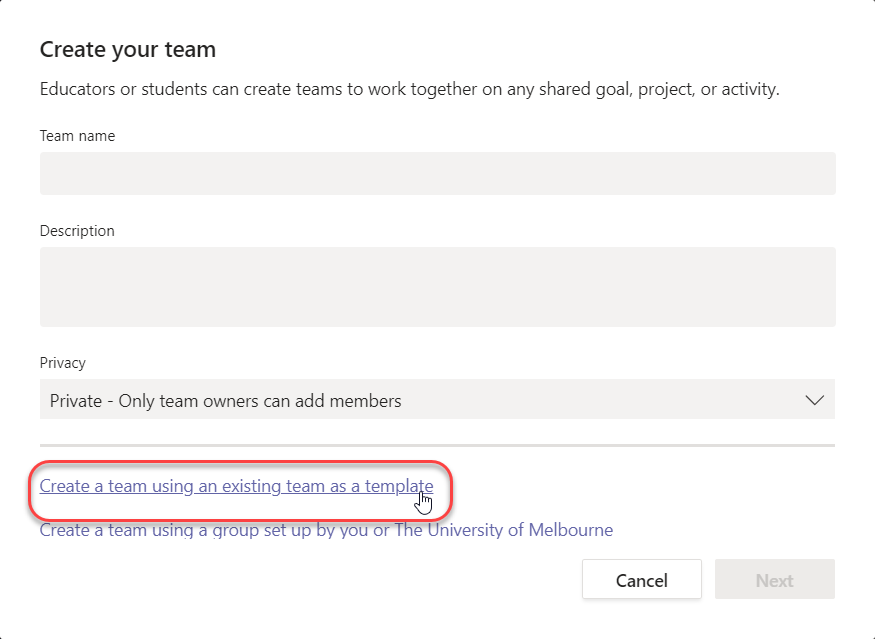 A list will display showing the Teams that you own. Select the team you want to use an click Choose team.
Note only Teams of the same type as the Team that you are creating will be offered as template choices.
You will now be presented with the options to update the name, add a description, choose the privacy setting, and select which elements of the template Team you wish to copy over to the new Team.
Note that you cannot copy over messages, files or other user-generated content.
When ready, click Create.
This guide was last updated 18 Apr 2023.
Please report any errors or omissions in this guide by submitting an LMS support request.